Compliance Influencer
Online Program followed by VIP retreat in Rome with Bettina Palazzo
Turn your colleagues into fans!

You work in Ethics & Compliance and you feel fed up and stuck in your role as the "sales prevention team", the "organizational nagger" and "snoozefest" of the company, but you have no idea how to change that?
You know that you need to communicate better and more often on your compliance & ethics program, but every time you want to finally start, something urgent comes up – an investigation, a policy review, a board meeting? So frustrating!
You spend days drafting a new policy, getting the executive team on board, writing an email to everybody and then nobody reads it?
You are not alone!
As a classic cross-functional role that needs to make sure that people play by the rules, it is hard to win everybody's whole-hearted cooperation.
Nobody wants to be told what to do – especially if they need to focus on their business targets and are already short of time.
Most compliance professionals have not learned how to "sell" or feel uncomfortable about marketing their work.
Without the proper mindset, practical tools and an easy to implement plan, you do not know where to start, feel overwhelmed and the pressure of daily business always wins.
Hello, I am Bettina Palazzo,
I have worked with compliance professionals for 25 years. I know that without the right communication strategy even the best Ethics & Compliance program will not win your people's hearts and minds and will keep you stuck in feeling overworked and undervalued.
I learned that what actually keeps compliance professionals from finally taking control of their internal communication is that
they do not think that communication is a priority, if the compliance program is good.
they think that there is nothing you can do about their unpopular position in the company – it just comes with the role.
they became used to the frustration of not being heard and valued and are secretly proud of being the lone compliance hero.
they postpone until they will have finished that urgent investigation, reviewed the Code of Conduct or have a new CEO …. and guess what that moment never comes!
It does not have to be that way!
I developed the "Compliance Influencer" program in which you will get the right tools, learn to apply them step by step and exchange with your peers.
As your guide in this process, I bring a unique combination of skills and experience:
I have always focused on the leadership, behavior, and culture dimension of Ethics & Compliance. A purely legalistic vision alone will never make compliance communication convincing and engaging.
I have years of experience in using fun and interactive methods that aim at involving employees and managers.
I am also a seasoned university lecturer and a prolific writer. I enjoy working with language that reaches people.
The "Compliance Influencer" Program will show you how you can set up an attractive, engaging and impactful communication strategy in just 5 weeks and become an influencer for E&C in your company that people trust and want to hear from.
These are the results you will get from this program
Finally, you have the toolbox that makes it easy to immediately implement a communication strategy for E&C that will make your hard work more visible, efficient and valued.
No more people whose eyes glaze over as soon as they hear E&C, because you know how to talk about compliance in a way that will make them want to know more.
No more sleepless nights because you struggle to explain your complex topics in an easy to understand and engaging way.
Imagine that people in your company look forward to receiving information from compliance, because they find it interesting, useful and enriching.
Getting support and inspiration through networking and exchanging ideas with other compliance professionals who have the same challenges as you.
What people say about working with me:
"Bettina brings color and energy to ethics management. With contagious enthusiasm she applies her unique skills and knowledge to turn ethics into a topic that everybody wants to contribute to."
Gabrielle Kluck, Director, Office of the Ombudsman and Mediation Services, WFP
"Bettina Palazzo, the "Grande Dame" of Business Ethics! The way she creates discussions and shares her insights is always helpful and inspiring. Thanks to her I understood the role of communication for compliance professionals in a whole different way."
Alexandra Hespeler, Global Policy Coordinator
"Bettina guided us through a well-structured and easy to implement process to improve our internal communication on Ethics & Compliance. This has been a real game changer for us!"
Chief Compliance Officer at a Swiss energy company
"Thanks to Bettina's vast expertise combined with her warm and refreshing style to lead through the sessions everyone feels welcome to share their own experiences. Such a boost of fresh energy!"
Viviane Gehri, Head Ethics, Risk & Compliance, Sandoz Pharmaceuticals
This is what is included in the Compliance Influencer Program
(starting Sep 4th) and the followed VIP retreat in Rome :
a 5-week "get-it-done" sprint towards your winning Compliance Communication Strategy
Five weekly 60 minutes live online Workshops via Zoom (recorded)
Access to my learning platform the "Ethics Gym" on Mentortools (GDPR compliant)
Weekly 60 min Q&A live group sessions via Zoom (recorded)
The compliance Influencer workbook with weekly tasks
Self-study Videos with additional task and methods
A community platform on Mentortools where you can exchange with your peers, ask questions and get feedback from myself and the group.
2-Day VIP Live workshop in Rome
(14. – 15. November 2023)
Mastermind Circle: Exchange and peer coaching
Feedback on your communication plan and activities
Active Listening and difficult conversations role plays
How to win your executive team for ethical leadership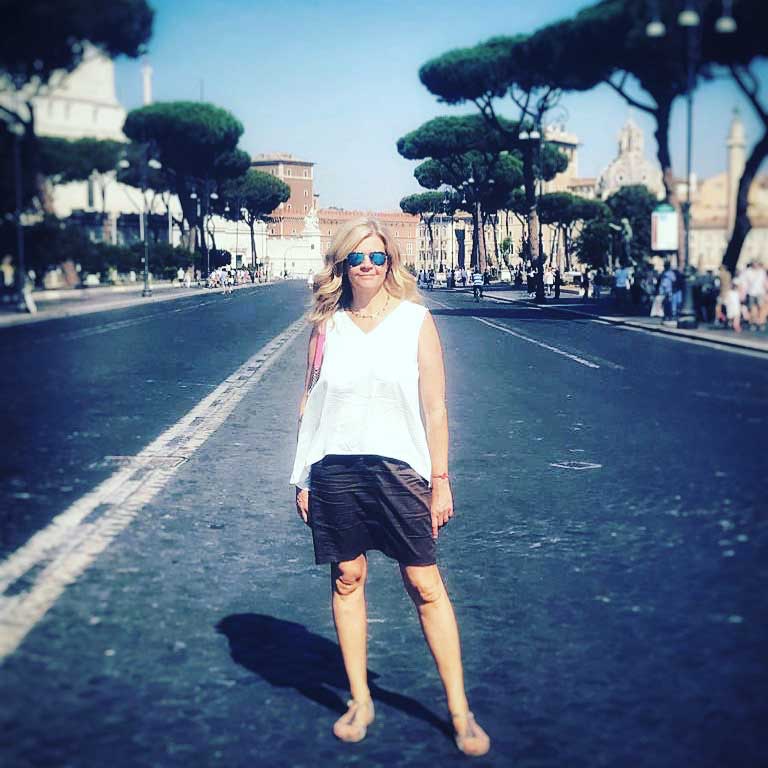 And, of course…Explore some of the most breath-taking locations and sites of the World (think: art, beauty, food – I lived in Rome for a year – I know all the best places!)
Resource vault: Best online resources on E&C, ethical leadership and communication (articles, books, TED talks),
Content plan and templates for 5 topics for your internal E&C communication content (e.g newsletter, intranet articles, video messages).
Guideline for better E&C Intranet sites
5 templates for winning compliance Emails: Code of Conduct, Speak-up Program, ABC-Policy, Conflicts of Interests, new e-learning, new policy, Onboarding of new employees
Guideline: How to make the most of Linkedin as a Compliance Professional
But the best is that…
you will stop postponing your winning communication strategy because
• you know what to do,
• how to do it and
• me and our peer community will support you with feedback, inspiration and encouragement.
This program a highly curated toolbox, which I created, using proven concepts from marketing, branding, communication and persuasion psychology.
Module 1: Your Baseline
Your assets. Your internal network of allies. Challenges and objectives.
Module 2: Your Compliance Branding
How are you perceived now? How do you want to be seen? How do you get there?
Module 3: Your Compliance Marketing
Get into the shoes of your target groups. Use insights from viral marketing. Objection handling for compliance.
Module 4: Your Compliance Communication
Explain like a pro. Write Compliance Emails that get read. Create a storytelling database.
Module 5: Create your Communication Strategy
Putting it all together: Channels. Tools. Content Plan.
The Compliance Influencer Program is still right for you…
…if you already have a compliance communication strategy because it will up your game with new and fresh impulses, methods, templates, peer coaching, and expert feedback.
…if your time resources are very limited, because the tools in the program will help you to come up to speed quickly, get support from me and your peers and in the long run save you soooo much time, because you do not need to fight internal resistance, send out endless reminders for your training deadlines and win the buy-in of your leadership.
…if you already know that you will not be able to attend all the live online workshops. These workshops will be recorded so you can always watch them in your own time.
…if you do not have a lot of budget for implementing a compliance communication strategy. A winning compliance communication strategy does not need to cost a lot and the toolbox that you will get in this program works for all budgets.
Do you really want to stay in the compliance communication gridlock where you work way too hard to get your policies and processes across and still do not win your people's voluntary engagement?
Your investment to become the best communicator in the company and bring ease, impact and appreciation to your job:
Compliance Influencer Online Program
2 Day VIP Retreat in Rome
60 min 1:1 call with Bettina
How can I book?
Doors for booking the Compliance Influencer program will open on June 1st. You will receive an email with a booking link if you are on the waiting list. If you are not on the waiting list and want to book, just drop me an email.
I have booked. What happens next?
When you have completed your booking, you will receive a confirmation email with further information and your invoice. If you do not receive an e-mail, please check your spam folder. In case of doubt, just drop me an email.
When and how will I get access to the programs online learning platform Mentortools?
You will get access to Mentortools a week before we start. You will have access to the community before we start to get to know your fellow participants. I will also keep you posted on what is going on behind the scenes before we start. We will also have an online kick-off party.
At what time will the online workshops take place?
The online workshop will take place Mondays starting September 4th. The weekly Q&A session for questions and feedback will take place Thursdays. The time of the day still depends on the time zones of participants, but I am planning to run them at 15h Central European time (Zürich).
How much time will I need to invest?
You will need to make time for the two 60 min. weekly workshops on Zoom. How much time you will spend on preparing, working on your workbook and start implementing largely depends on you. I would calculate a total weekly time investment of 4-6 hours.
Can I only participate in the Rome retreat?
I recommend that you do the online program, too, because we will share and exchange on our learnings and the things participants will have developed and implemented. But you can also come and get support on your current communication projects and challenges. In addition we will do other things that are better suited for a face2face workshop like role play.
What is included in the Rome Retreat?
The package for the Rome retreat is two days of in-person workshops and mastermind circles in a cool location in the center of Rome. The lunches during the workshops and a welcome cocktail on my favorite Roman roof-top bar are on me. I let you take care of your travel and accommodation. I will recommend some hotels.
Until when can I cancel the Rome Retreat?
It is important to have enough people to participate in the Rome retreat. That is the purpose of a mastermind circle – it lives from the exchange of the participants. You can cancel the masterclass until 15 days before it starts. After that I will need to charge you the full fee (2000 Euro) or you can send a substitute.
How long will I have access to the material on the Mentortools learning Platform?
Your access ends after 6 months. I believe that permanent access to the content will not make a difference to your success! On the contrary, if you know that the content will no longer be available after 6 months, you will work much more efficiently.
Does the price include VAT?
Since I am based in Switzerland you only have to pay VAT, if you are also based in Switzerland. Please indicate this in the registration form when you book the program.