by Dr. Bettina Palazzo
Corporate values statement only seem like fluffy, easy stuff. Beware! If not done properly they can create a lot of damage.
« Excellence », « integrity » and « communication » These seem to be the most popular buzzwords in corporate value statements.
I roll my eyes as soon as I see these values anywhere. Why? I will give you four reasons why they make me nervous:
1. One size does not fit all
First of all, values like excellence, integrity and communication are way too generic. They could be adopted by any organization. Who would be against excellence, integrity and communication? But are they really specific for the company and its culture or business model? Probably not! Excellence can mean many things to different people. It certainly makes a difference what we mean by excellence whether you are working in a bank or a hospital.
Integrity? It means that you always stick to your moral principles no matter what the benefit might be if you break the rules. This value, too, needs a lot of definition and soul searching before a group of people like a company can agree what it really means to them:
When is a gift a bribe?
How do we deal with confidential information?
Can I be friends with a supplier? Etc.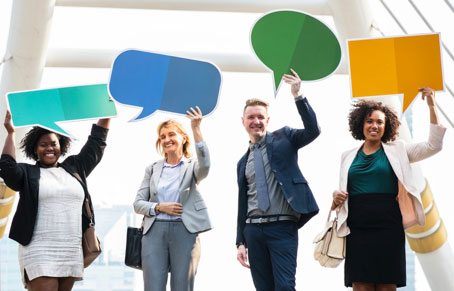 Yes, way too often value statements are empty word bubbles! Please avoid that. Photo by rawpixel on Unsplash
2. The true colors are always shining through
Second, often companies succumb to the temptation to choose values that sound appealing but are too far away from their corporate reality and somehow hoping that the simple act of proclaiming that value it will become a reality in the organization. For example, when companies put "communication" in their value chart they wish to express with this value, which is not even a value but an activity, that they want everyone in the organization to cooperate effectively and openly with as little political power play as possible.
Wishful thinking in many cases! Of course, the people in the company know this and react with cynicism.
You cannot declare that your company cherishes collaboration, open communication and team work when in reality your corporate culture is driven by fierce internal competition, politics and monetary incentives only. What we need is an inside-out approach.
You have to do your internal cultural homework before you go into the world and brag about what a wonderful company you think you are.
Values statement will never work, if they are only the icing on the cake, they have to be the very foundation of a corporate culture.
Within the icing-on-the-cake approach the top management comes together and agrees on some fancy sounding words that are than communicated to the lower ranks. This does not work. It is like putting on make-up without washing your face. Or like learning some moves and gestures to appear more self-assured without doing the hard internal work of personal development.
France Telecom had to learn this the hard way in 2008, when they got hit by a series of over 30 employee suicides: victims stabbed themselves in the middle of company meetings, jumped out of the window at work and left good-bye letters that clearly stated that they killed themselves because of the pressures and fears at work.
At that time France Telecom was in a difficult transition from a state-owned company to a player in the highly competitive and dynamic international telcom market and could not fire employees with a public servant status. Therefore, CEO Didier Lombard had introduced a merciless shake-out project that aimed at demoralizing employees in order make them leave the company "voluntarily". As a reaction to the suicide series Lombard said that this "fashion" of suicide should stop and that it the media coverage created an effect of contagion. The waves of public outrage went high, Lombard had to leave and is still today on trial for harassment. Of course, at the same time France Telecom had a value statement that said that the well-being of their employees was very important to them.
It is clear that after a disaster like that it will be very, very hard to ever make coworkers believe in the beautiful words of a value statement again. This is one point that is often ignored when companies initiate a value management project:
If you screw it up, credibility is lost for a very long time, if not for ever.
At the same time it is true that values can and should be aspirational.
You can use values as part of a change program. But if you do that you have to make clear that you know that you are not quite there yet and prove that you have measures like training, organizational redesign or new performance standards in place to get there.
3. No Emontial appeal
Third, if values are too generic and unrealistic they do not create any genuine emotional response or connection for the men and women in a company who know the true colors of their organization all too well.
Of course, client orientation is important, but this is not a value that would deeply resonate with the hearts of employees. This is nothing that makes people get out of bed in the morning and go to work with joy and anticipation.
How can you make corporate values emotionally appealing?
Not easy, but it helps to always start with a motivating overall purpose of the company that goes beyond the profit motive.
Humans always yearn for meaning in their life.
As philosopher and Holocost survivor Viktor Fraenkel famously put it:
"Life is never made unbearable by circumstances, but only by lack of meaning and purpose."
This human desire for meaning is nicely illustrated by Harish Manwani's (COO of Unilever) TED talk in which he tells the story of his first day at the company where his boss asked him why he was there. Manwani answered: "To sell lot's of soap!" and his boss said: "No, to change peoples lifes!", because the original purpose of Unilever was to improve hygiene in order to help prevent contagious diseases. Clearly changing peoples lifes is more emotionally appealing than selling lot's of soap, right?
4. No link to everyday behavior
Forth, very often values statements are not linked to behavior. They get developed, glossy brochures rolled out, employees (maybe) read them, laugh bitterly because they are so unrealistic and cheesy and then they forget them, because nothing happens that would link these values with the behavior of managers and employees.
The mere proclamation of value buzz words will never, never, never influence people's behavior. How people in an organization actually behave is the ultimate prove to the value pudding. Without this link to behavior a value statement loses all credibility and disappoints all expectations that unavoidably come up when a company opens the value Pandora's box.
And by the way, these three values, excellence, integrity, and communication were the corporate values of Enron. And we all know how this ended: In jail, bankruptcy, and shattered hopes. Somehow Enron had managed to win prices for their value statement, but it definitely did not keep their top management from cooking the books and inciting their employees to cut-throat business behavior with the help of an inhumane incentive system.
In a nutshell, ever so often value statements do not go beyond orgies of humanistic prose in shiny brochures that nobody can take seriously. In extreme cases they are a more or less random collection of buzz words sound like this hilarious song by Weird Al: https://www.youtube.com/watch?v=GyV_UG60dD4
On the other side, of course, values are important for companies in our highly volatile, complex and ambiguous times. Old-school management that works with order and command is too rigid for this new fast-moving world. The younger generation of corporate coworkers is looking for more freedom, more fun, more autonomy and more purpose in their jobs. Here a corporate culture that is driven by values and a purpose that goes beyond simple profit maximization creates a positive appeal for future coworkers, higher levels of motivation with current coworkers and a more inspiring and more flexible way of decision making. Ideally, instead of applying rigid rule books, controls and processes, coworkers decide on the basis of common values.
So how can you come up with a value statement that will actually have these positive effects instead of creating cynicism and ridicule?
Stay tuned for my next blog post and on the five steps to make them value statements work.